In the research field Polymeric Materials, new fundamental knowledge and skills are developed through scientific materials research, and the know-how and technical prerequisites are created to be able to work on the questions of application-oriented materials development at the ibac.
The working group Polymer materials also oversees chemical and instrumental analytics. More→
Current job offers and information on theses, research internships and student research projects. More→
Electrically and ionically conductive polymer materials based on polyethylene glycol and lithium salts not only play a central role in the energy industry, but also have great potential in the construction industry. The electrical properties form the basis of our application-oriented material development with the current focus on electrochromic detectors and polymer sensors in their applications for the detection of reinforcing steel corrosion.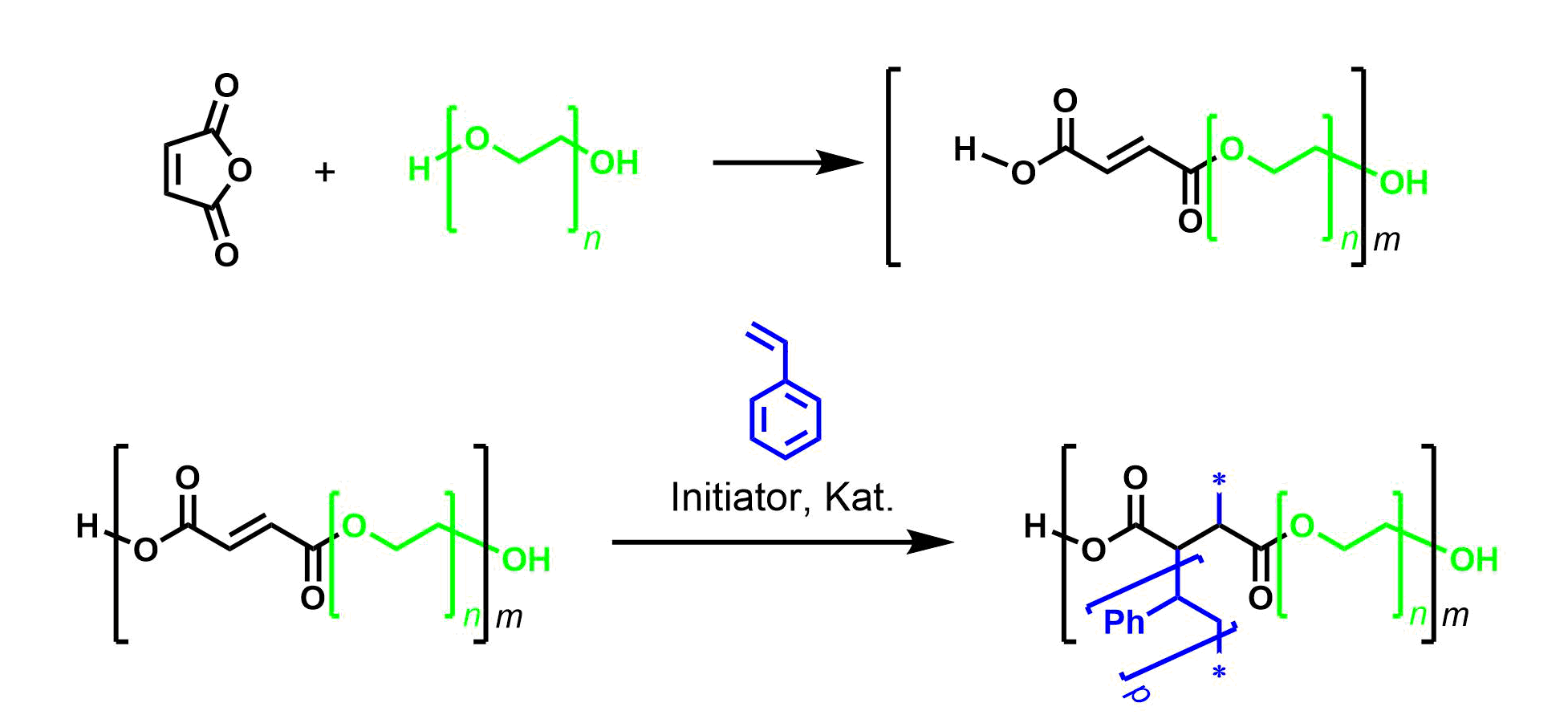 Within the focus "Ion-conductive polymers", the main work for us chemists is in the area of preparative and applied polymer chemistry and we use the methods of "classical" chemical structure elucidation, such as NMR, IR or DSC. In addition, we use typical electronic measuring methods, impedance spectroscopy (EIS) and cyclic voltammetry. In the sense of interdisciplinary technology transfer, we transfer chemical facts to problems from the engineering field and thus make a significant contribution to the further development of the solution-oriented strategy pool.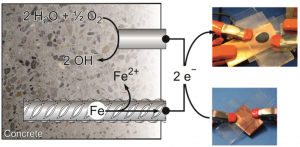 Contact person: Pia Sassmann, Tobias Boehnke
Current projects: Development of an in situ manufactured multi-ring electrode for depth-graded monitoring of moisture behaviour in concrete components ❖ Electrochromic components for use in a corrosion or CCP monitoring system
Completed projects: Development of a system for permanent monitoring of corrosion in reinforced concrete components based on novel injectable polymer sensors
Publications:
Electrochromy for the visualisation of small amounts of electricity
T. Juraschek, O. Weichold
Concrete 2019, 5, 168–171.
Preparation and characterisation of ion-conductive unsaturated polyester resins for the on-site production of resistivity sensors
P. B. Sassmann, O. Weichold
Ionics 2019, 25, 3971–3978. https://doi.org/10.1007/s11581-019-02958-x
Development of an electrochromic device triggered by the macrocell current in chloride-induced corrosion of steel-reinforced concrete
T. Juraschek, O. Weichold
J. Phys. Org. Chem. 2017;e3739. https://doi.org/10.1002/poc.3739
Theses (Chemistry, Civil Engineering, UIW)
Are you looking for a Bachelor or Master thesis? If one of our topics interests you, please contact Prof. Weichold or one of the above-mentioned contacts for a non-binding discussion.
Research practicals (Chemistry M. Sc.)
Students in the degree programme Chemistry (M. Sc.) can carry out the freely selectable research internship with us. If you are interested in one of the above-mentioned research foci, please contact the responsible contact person directly, Prof. Weichold or come by for a non-binding discussion by appointment.
Student research projects (UIW)
We offer students in the environmental engineering programme the opportunity to carry out student research projects on the environmental and technological aspects of our main research areas. If you have any questions about the topics or want to narrow them down more precisely, please contact Prof. Weichold directly.
Are you interested in innovative chemical research with direct application? Why not join us as a student assistant or researcher? More→
T. B. Mrohs, O. Weichold Multivalent Allylammonium-Based Cross-Linkers for the Synthesis of Homogeneous, Highly Swelling Diallyldimethylammonium Chloride Hydrogels Gels 2022,
Read more »